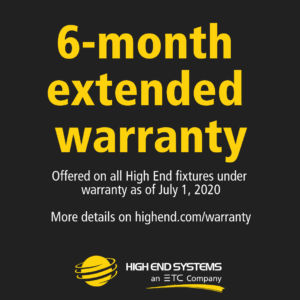 Good news for those who have invested in High End Systems products. High End Systems sent an announcement out earlier today that they're extending warranties an additional 6 months.
"During this challenging time in our country and industry, we at High End Systems and ETC extend our wishes for wellness and safety to you, your family and businesses. We have been discussing how we could immediately support all industry professionals that have invested in High End Systems. In the spirit of assisting, we have decided on a warranty extension program.

The program is simple. We provide an extension of six months to all High End Systems products that are currently under warranty as of July 1, 2020. For example, if your warranty was set to expire on June 2020, the warranty would be extended to December 2020."
They've published more information online. It's a nice demonstration of the confidence in HES products, and at Creative we'll be happy to help you experience that confidence.