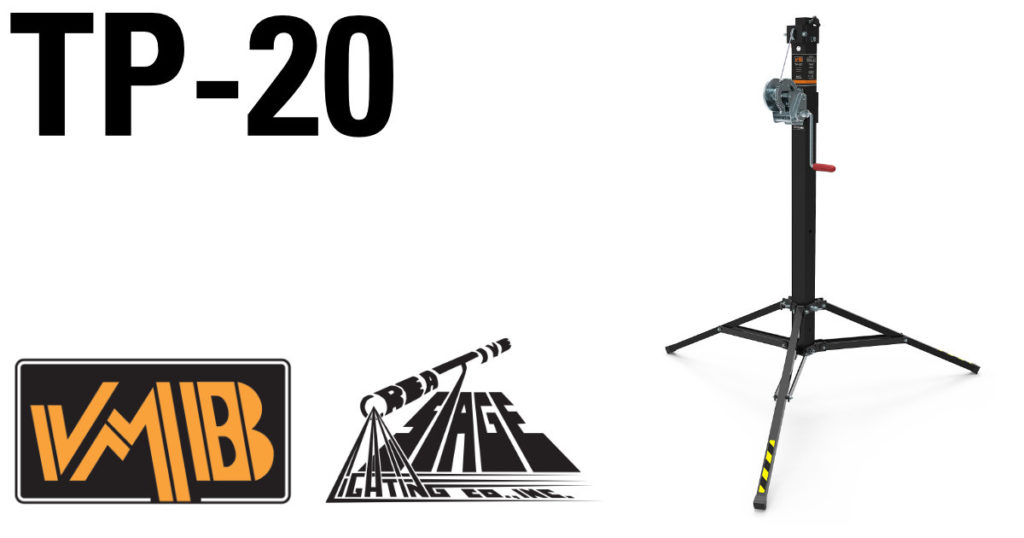 VMB's TP-20, Opened
VMB's TP-20, Closed
VMB's line-array and telescopic lifts are known for their versatility, power, and safety standards. VMB's newest entry, the TP-20, brings those same features to a lightweight and compact lift, designed to maintain a perfect balance between lightness and strength.
Weighing only 33lbs, the TP-20 can load 220lbs to a height 9.84 feet. Easy to assemble and carry, it can fit in the trunk of a car, making it a perfect application for lifting PA cabinets with a spigot mount, light weight truss, stage lights, and other similar applications.
VMB's TP-20 also brings the safety features known throughout VMB's lifters. It's composed of aluminum profiles with high resistant, and anti-torsion steel cable guided through reinforced pulleys. The TP-20 also includes the VMB-exclusive ALS auto-lock security feature, which automatically locks each section of the lifts' mast into place during raising and lowering.
A wide range of accessories are available for this compact telescopic lifter to help fit a wide range of applications.
For more information, please see our online store, or get in touch with us on our contact page. You can also call Creative Stage Lighting at (518) 251-3302.
Specifications
Max. height 9.84′ (3m)
Max. Load 220 lbs (100kg)
Safety ALS (Auto Lock Security)
Work surface 4.46′ x 5.15′ (1.36 x 1.57m)
Folded height 4.66′ (1.42m)
Winch 990 lbs (450kg)
Adapter 35mm (PSU-034/ PSU-06 / PSA-01)
Weight 33 lbs (15kg)