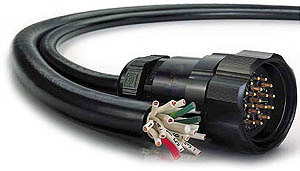 For fast assembly, Dura-Flex™ multi-cables feature clearly labeled high current conductors matching Phase 3, Socapex and Veam VSC pin configurations. The #1 conductor is easily identified by its bright red color while conductors 18 and 19 feature green and green striped identification. For your safety we have eliminated hazardous talcs and engineered a paper tape design that is cleaner and safer while performing as a superior slipping agent.
12 Gauge / 19 Conductor (UL Listed, 1000V, TC-ER) – PDF
12 Gauge / 14 Conductor (UL Listed, 1000V, TC-ER) – PDF
14 Gauge / 7 Conductor (UL Listed, 1000V, TC-ER) – PDF
14 Gauge / 19 Conductor – PDF
14 Gauge / 14 Conductor – PDF
16 Gauge / 18 Conductor – PDF
Identifying male & female end of multi-cable – PDF
19-Pin Solder Instructions – PDF
Dura-Flex Multicable Features and Benefits – PDF
Multi-Cable Assemblies
Let us put our knowledge and experience to work for you. With more than 27 years of experience in the entertainment lighting industry we are sure to bring an added dimension to your next project. We incorporate only the highest quality cable and connectors and manufacture each cable to exacting standards for maximum safety and reliability. All of our cable assemblies are clearly labeled for length. Each label is protected with heavy-duty clear heat shrink. Custom labeling is available. Call us for a quotation on your next project.
Dura-Flex™ Multi-Cables are available with 19 pin P3, Veam VSC, or Socapex Connectors.
Standard 25ft, 50ft, 75ft, 100ft and 150ft lengths, with custom lengths available.