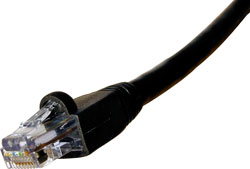 Everything you love about Dura-Flex cables are now available in Cat5.
Dura-Flex Cat5E carries the same properties as the rest of the Dura-Flex cable line, including Dura-Flex strength, ease of use, and environmental responsibility through RoHS certification. It's manufactured to withstand rigorous conditions that come with performance after performance.
Dura-Flex Cat5E cable is available through Creative Stage Lighting dealers in bulk and various cableset lengths with standard RJ45 connectors and Neutrik EtherCon connectors.
Specifications
Dura-Flex Cat5E Cable – PDF
3-Pair 22 AWG Cable
High flex industrial low voltage computer cable – 3 Twisted Pairs w/shield — AWM Style 2919
Specifications
3-Pair 22 AWG Cable