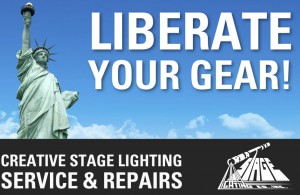 Liberate your gear with CSL Service and Repairs!
We've been servicing our own equipment for years and years, but today we thought "hey, why not offer this to everybody?"
That's what CSL Service and Repairs is all about!
Give us your tired, your broken, your decommissioned assets yearning to shine brightly again! Send these, the outdated, your attention starved fixtures and consoles to us, and we will make them work like new again!
Put Creative Stage Lighting's expertise to work on your stage lighting equipment! The trained technicians here at Creative Stage Lighting will give a new life of freedom to your production and rental inventories.
Get a jump start on 2015 – let us prepare your gear for a successful touring season! Ask us for a service quote at https://www.creativestagelighting.com/service/